In this article, we will learn about how to install arch Linux. Arch Linux is a general-purpose rolling-release Linux distribution that is very popular among DIY enthusiasts and hardcore Linux users. Installing Arch Linux can be a bit challenging for beginners, but it is a rewarding experience as it allows users to build a highly customized Linux system from scratch.
Prerequisites:
A blank USB drive with at least 1 GB of storage
A computer with a 64-bit processor and at least 512 MB of RAM
At least 2 GB of free disk space (recommended 20 GB for basic usage with a desktop environment)
An internet connection
How to Install Arch Linux
As of now, there are two ways using which you can install Arch Linux:
Without the guided installer
With the help of archinstaller (guided installer)
Step 1: Download the Arch Linux ISO
You can download the ISO from the official website. Both direct download and torrent links are available.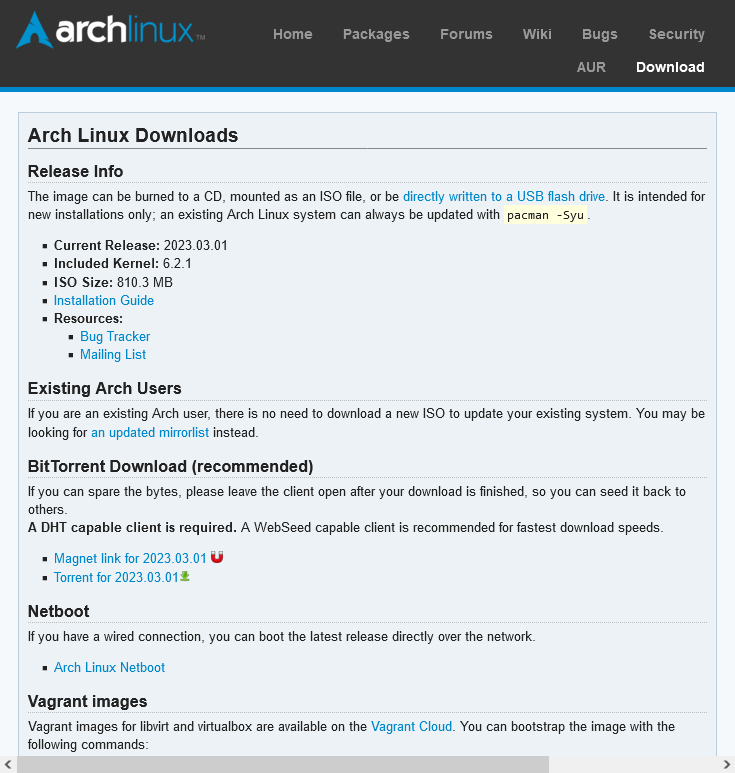 Step 2: Create a live USB of Arch Linux
You have to create a live USB of Arch Linux from the ISO you just downloaded. You may use the Etcher GUI tool to create the live USB. It is available for both Windows and Linux.
Step 3: Boot up Arch Linux
With the Arch Linux ISO burned on a DVD or stored as a live USB, insert the installation media into your computer and restart.
Depending on your system, pressing F2, F10, or F12 lets you choose the device the system boots from.
With the boot settings open, select the preferred install media (live USB or DVD). The following screen shows up after Arch Linux boots: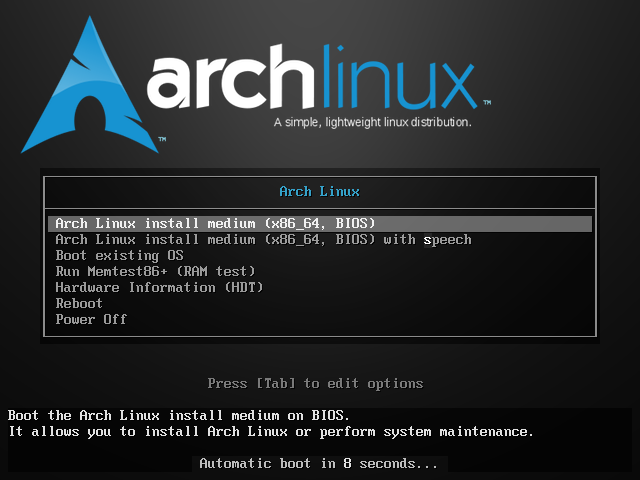 Install using archinstall
Once the boot is complete, you should see a prompt like the one below. Type archinstall and hit enter.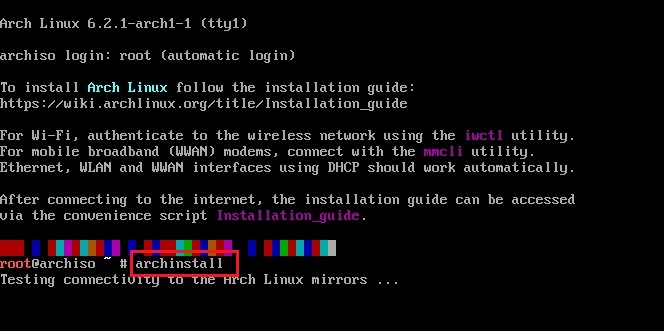 The command will check for internet connectivity to the Arch Linux mirrors. And once done, a series of prompts will pop up. All you have to read and select the option you want.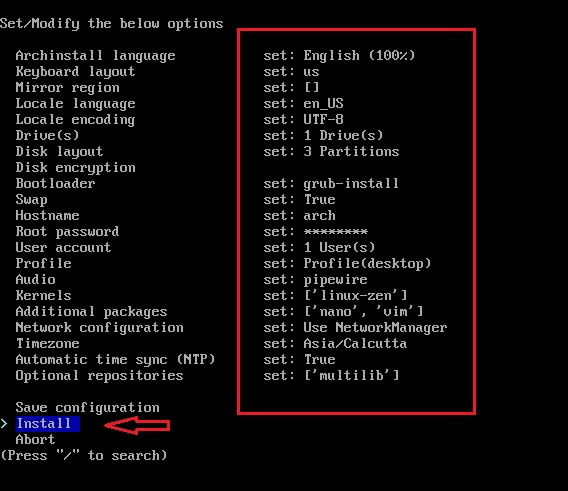 Here you have to select the options one by one and select accordingly.  And at last, select the Install option and hit the enter key. to start the installation process.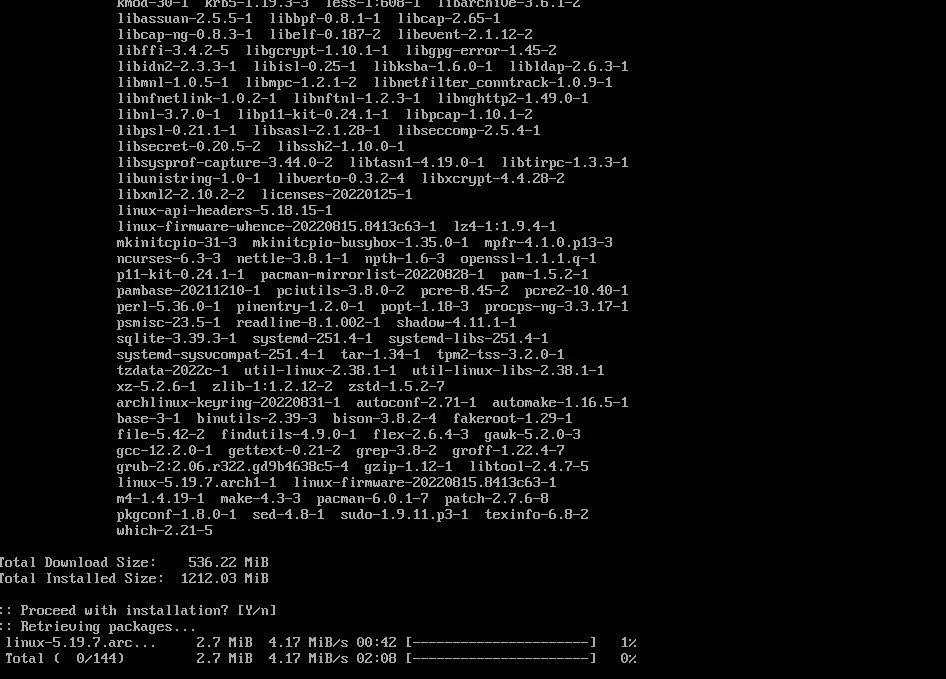 At this step, archinstall program will start downloading the packages for installation. After installation is complete, it would prompt you whether you want to log in to the chroot and do some maintenance before the final reboot.

Finally, reboot the system.
reboot
If you have followed the steps, then you should see a GRUB with an Arch Linux menu and a login screen to login.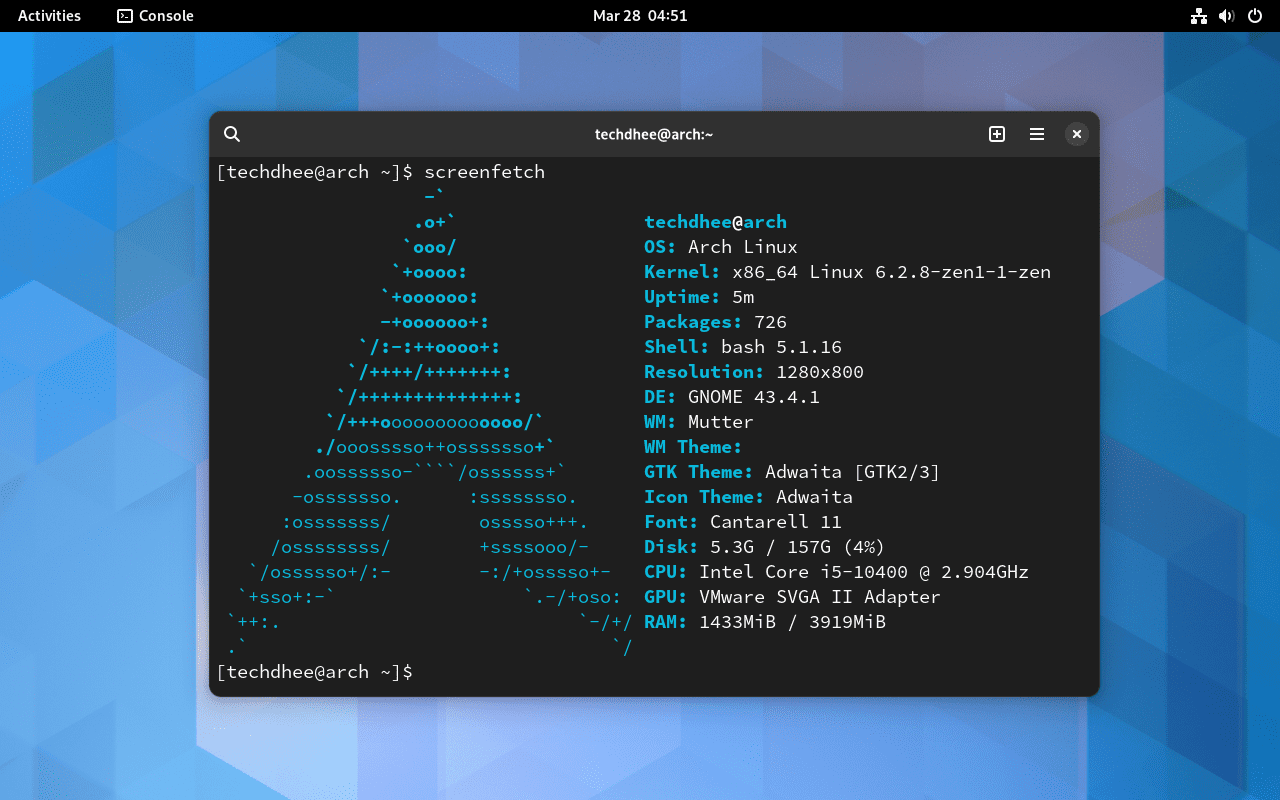 Conclusion
Installing Arch Linux can be a challenging process that requires some technical knowledge, but it can result in a highly customizable and efficient operating system. Arch Linux is not recommended for beginners or users looking for a user-friendly operating system, but it can be a great option for experienced users who are up for the challenge.